Placement of the cornerstone of the new plant of Mondragon Assembly in Kunshan
5 June, 2019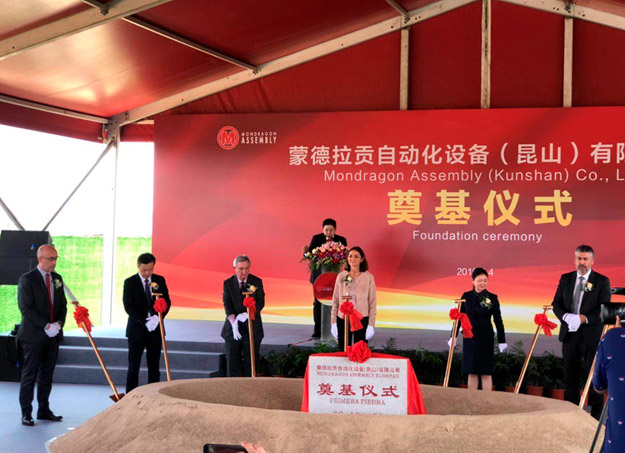 Yesterday marked the placement the cornerstone of the new plant to be built by Mondragon Assembly in Kunshan. The event was attended by important personalities at the national level with a delegation headed by Reyes Maroto, current Minister of Industry, Trade and Tourism, as well as Rafael Dezcallar, Ambassador of Spain in China, Paz Ramos, the General Director of International Commerce and Investments, and Inmaculada Riera, Director of the Chamber of Spain. The event also featured Mikel Gantxegi, director general of Mondragon Assembly Kunshan, Oskar Goitia, President of MONDRAGON International, Iñigo Albizuri, Director of Institutional Relations of MONDRAGON, and several representatives of the local authorities of Qiandeng and Kunshan.
During his trip to China, Reyes Maroto visited the integrated cooperatives of MONDRAGON that are located at the Kunshan industrial park. In his speech before the heads of the Corporation, Reyes Maroto expressed his pride in having a leading group at international level: "For Spain and for the Basque Country, MONDRAGON is where you have to look. The world changes and we have to adapt. The group is an example of how to transfer success to a market such as China, keep growing, and remain a responsible company, which does things well."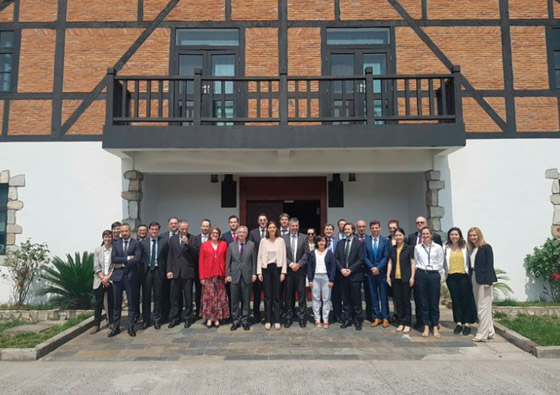 New step for Mondragon Assembly in its consolidation as a global leader in the automation and solar sectors.
Last April, Mondragon Assembly published the news about the construction of the new plant in Kunshan, China. This investment is intended to meet the growth needs of both the Automation and Solar businesses that are demanding for the Mondragon Assembly Group in such a strategic market as China. The construction is expected to be operational in the first four months of 2020. About the MONDRAGON Assembly Group.
About the MONDRAGON Assembly Group.
Mondragon Assembly is an international group specialising in the development of automation and assembly solutions. It currently has six production plants:
Aretxabaleta (Gipuzkoa, Spain), its central headquarters; Mexico; France; Germany; China and Brazil and, in addition, a subsidiary in India. It operates in sectors such as solar power, the automotive industry, appliance components, cosmetics, medical devices and electronics. Its staff consists of a team of over 400 individuals and its 2018 turnover was in excess of €85 million.