New mask production plant opened in Etxebarria (Bizkaia)
5 June, 2020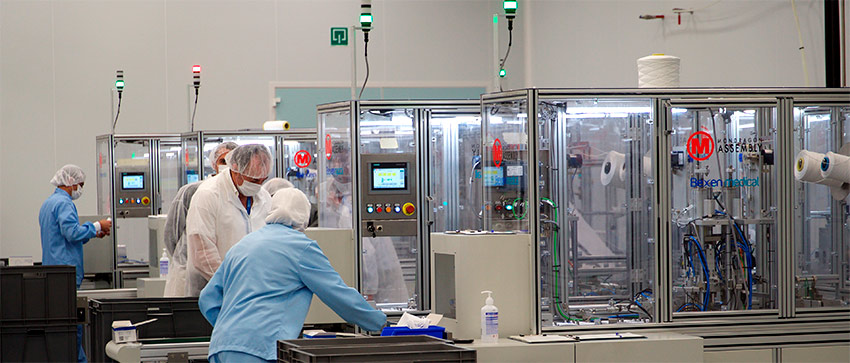 The official opening of the Bexen Medical production plant took place yesterday, 4 June, with 6 mask production lines, manufactured by Mondragon Assembly, already in place.
The official opening ceremony of the Bexen Medical plant took place yesterday in Etxebarria (Bizkaia). The event, held in strict compliance with all the prevention measures and safety protocols, was attended by the Basque Government Minister for Economic Development and Infrastructure, Arantxa Tapia, and the government's delegate in the Basque Country, Denis Itxaso, and was hosted by Carlos Arsuaga, manager of Bexen Medical, the President of MONDRAGON, Iñigo Ucin, and the Vice-President of the Corporation's Equipment Division, Juan Ángel García. The General Managers of Mondragon Assembly and Cikautxo, Luis Maria Imaz and Iñigo Laskurain, also took part in the event.
Inter-cooperation project
Several MONDRAGON cooperatives were involved in the venture. Bexen Medical, which led the project and is responsible for manufacturing the masks. In addition, Mondragon Assembly, the cooperative responsible for the manufacture of the automated production lines. The equipment was designed and assembled in China (the Chinese subsidiary specialises in this type of machinery and its network of suppliers was 100% functional, which was not the case in Spain). The production lines comply with the most demanding European standards and the legislation on CE marking and arrived in Madrid in the third week of April. Cikautxo, a cooperative from Bizkaia, was the third partner in this inter-cooperation, providing its premises equipped with a room of 500 square metres.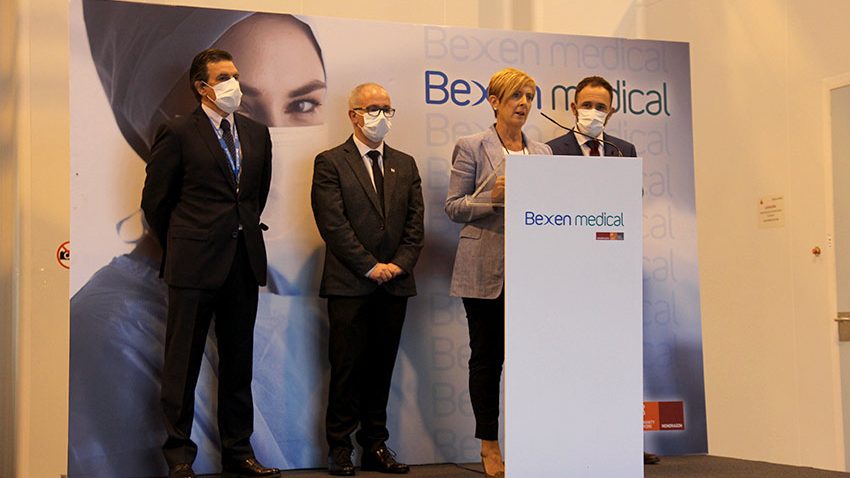 3 more lines that will double the production of masks per month
In addition to these three production lines, which are already operational, there will be three more that have already arrived at the plant and which are currently being commissioned and will shortly become operational.
Mondragon Assembly, manufacturer of machinery for the production of masks
Mondragon Assembly, has extensive experience and state-of-the-art technology in the medical sector in general and in the manufacture of masks in particular, both in the simplest models, such as surgical masks, and in the most advanced, self-filtering, FFP1, FFP2 and FFP3 types, with or without exhalation valve.