Mondragon Assembly receives an order from the French PV module manufacturer, Voltec
16 January, 2023
The order consist of two state-of the-art Tabber & Stringers and a Lay-up system that will allow the French company to obtain a total production of 6,000 cells per hour.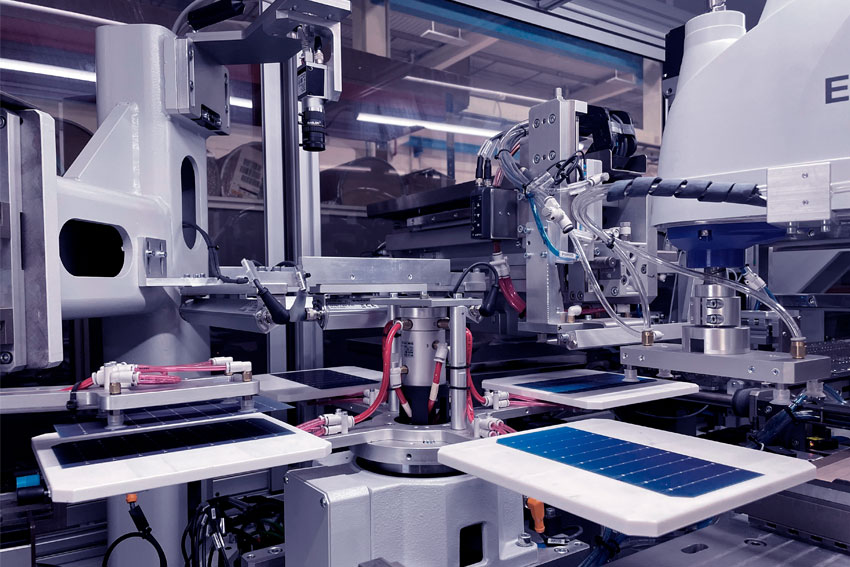 Mondragon Assembly and Voltec have reached an agreement to upgrade the solar module assembly line that Voltec owns in France. It concerns the supply of two state-of-the-art Tabber & Stringers with their corresponding lay-up system. This lay-up system incorporates an electroluminescence system for the detection of defective strings. The total production capacity of the complete system will be 6,000 cells per hour. The stringers are equipped with a multi-step infrared welding system as well as a precise handling system for manufacturing strings using round wire. These technologies provided by Mondragon Assembly, together with Voltec's extensive experience in manufacturing solar modules, will result in a high quality and efficient line.
The stringers and the lay-up system will be installed in the second quarter of 2023 and will enter into mass production in the summer. These machines will allow Voltec to increase their production capacity by 150MW with respect to gross capacity.
Important cooperation to reinforce the PV market in Europe
Electricity prices are rising dramatically, and renewable energy is currently the cheapest source of energy. These factors mean that the European PV market is in full swing. It is important that European companies work together and cooperate to build a European ecosystem to produce solar modules and all other components. This agreement between Mondragon Assembly and Voltec is a clear example of the will of the European industry to achieve these objectives. We are working to reindustrialize Europe and to move towards energy autonomy.
About Voltec
For more than 10 years, VOLTEC Solar has been producing solar photovoltaic panels. Based on the French-German border, the family-owned company, STRUB SA, decided in 2009 to diversify into solar. Based in a 4500 m² plant, next to the sister company and neighbour, ALSAPAN SA, a wood-based flooring and furniture producer since 1972.
VOLTEC's technical team has 10+ years manufacturing and process know-how, agile enough to compete in a very volatile solar market. Thanks to its smart module engineering, VOLTEC Solar achieves a world-class Product Carbon Footprint (PCF), improving its supply chain and continuously optimizing its Life Cycle Analysis (LCA) to reduce its impact on the environment.
In 2019 the company decided to extend its production capacity from 70MW to 200MW for a line based on high performing and reliable European machinery, combining cell cutting TLS-Dicing, contactless infrared soldering, multi-stack lamination, electroluminescence, and A++ LED flasher quality inspections. In 2021, investment in new soldering equipment and higher line automation allowed the company to comply with the latest cell size trend. The company will double its capacity in 2023.
About Mondragon Assembly
Mondragon Assembly is an international group specialising in the development of automation and assembly solutions. The parent company in Spain, which is a cooperative, was created in 1977 and is one of the pioneers in the development of production and assembly technologies. Mondragon Assembly is divided into three business areas: Solar, E-Mobility & Energy Storage and Automation. Its main activities in each of these businesses include the development of turnkey lines and machines and contract manufacturing, being able to offer solutions anywhere in the world with their six production plants and three technical and sales offices.
We belong to the Mondragon Corporation, one of the major business groups in Europe.