Cell Tester and Sorter
Solar manufacturing equipment
Automatic photovoltaic cell tester and sorter
The automatic Cell Tester & Sorter machine performs a function and quality test on the photovoltaic cells before commencing production of the modules, classifying them according to their electrical characteristics (current, voltage and/or power, etc.), avoiding defective cells in the production process.
Mondragon Assembly's Cell Tester & Sorter is equipped with an advanced artificial vision system and a (grade A+A+A+) state-of-the-art solar simulator, allowing precise measurement and checking of various electrical parameters:
Electrical tests: Measurements of electrical parameters and the photovoltaic performance of each cell are obtained using a solar simulator.
Quality tests: Thanks to the artificial vision system, geometrical aspects such as surface quality, ruptures, cracks, etc., can be checked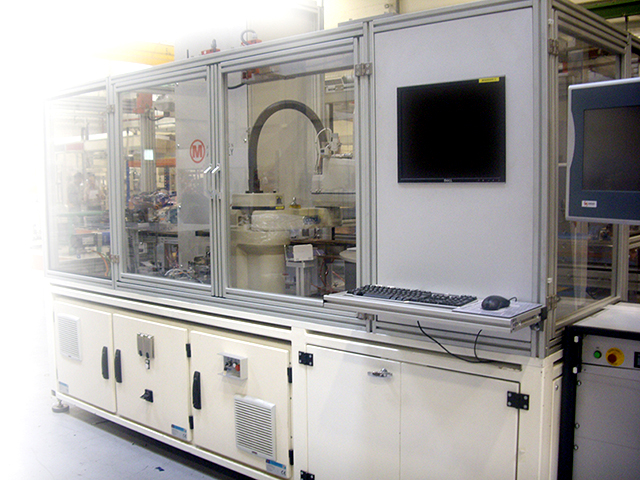 Cells are sorted into batches of normally 4 or 8 classifications and rejects the cells below quality criteria, with the objective of matching cells with similar characteristics and optimising the yield of the production.
The cell stacks are manually loaded onto the machine. This equipment automatically controls and classifies the cells into 8 quality levels according to their characteristics. This process maximizes the overall production yield, reducing mismatching loses.
The integration of an advanced artificial vision system and a solar simulator provides solid automation, as well as a rapid return on investment and final product quality improvement.
Improves cell sorting by efficiency
Reduced overall production line downtime, because only good cells enter to the manufacture process
Improves quality
Rapid return on investment
Small machine dimensions
| | |
| --- | --- |
| Features | |
| Tests included: | Vision for geometry of cells and printing. (Ok/NOk ) Test I-V. Solar simulator (battery classification) OPTIONAL: EL Vision test (Ok/Nok) |
| Production | 2400 cells per hour |
| Capacity of cells | 8 batteries of 200 cells for initial charge. |
| Air pressure | 5 bars, 775 NL/min |
| Utilities | 3 phases, 380-420 V, 50-60Hz |
| Max. power | 18 kW |
| Average power | 10 kW |
| Dimensions (L x W x H) | 5050 x 2500 x 3200 mm |
| Weight | 3500 kg. |
| Interface | Integrated PC with touch panel and illuminated coloured alarm signal. |
| Control | Sun simulator PC and PLC control system combined with a Scara robotic computer. All connected by a local network. |
| Warranty | 1 year |