Mondragon Assembly installs 60 MW PV production line to Arab International Optronics in Egypt
13 December, 2018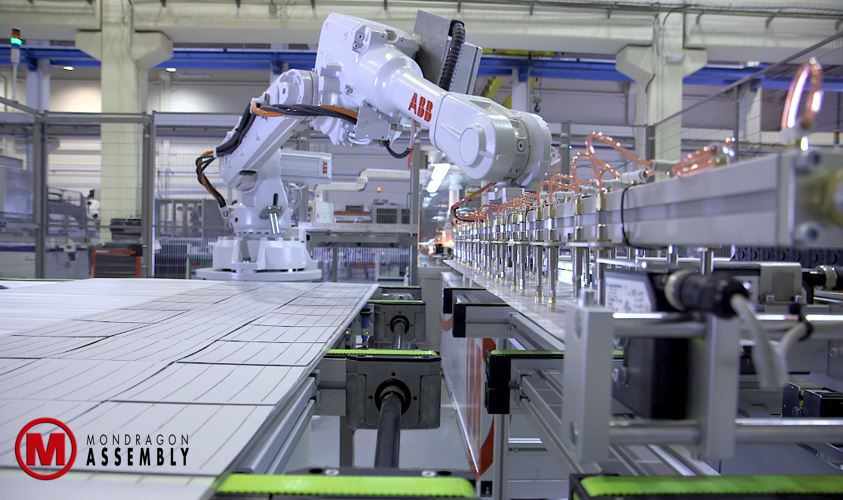 Mondragon Assembly, with its solid economic and financial situation due to business diversification like solar and special machinery and international presence in Spain, France, Germany, Mexico, Brazil, and China and of course, the support of the Mondragon Corporation which had over 250 companies and more than 70.000 people working on the group in a wide range of sectors, has just completed the installation of a 60 MW PV module manufacturing line in Cairo, Egypt. Arab International Optronics' factory is expected to begin manufacturing activities in March 2019.
Arab International Optronics is a National Service Projects Organization of the Egyptian Ministry of Defense. Established in 1982 under the Egyptian Investment Law.
The Company manufactures and sells advanced optical, electro optical and electronic systems for military and commercial applications. The company was founded in 1984, Started Production Process in 1985 and is based in Cairo, Egypt.
AIO is one of the key manufacturing companies established by the Egyptian Armed Forces to develop a local industrial capability and self-reliance in the manufacture of high technology sights and associated equipment.
The manufacturing line is flexible to produce both 60 and 72 cell modules, glass-glass and bifacial modules.
The line has production capacity higher than 40 modules/hour, the high productivity of the compact and ergonomic machines reduces operators and maintenance using the best technologies in the market which are the infra-red and induction technologies with an easy to operate and simple HMI.
Commenting on the project, HAYTHEM ZHIOUA, Sales Director, Mondragon Assembly MENA, Said, "We already installed the line in the customer's premises. I confirm that the line is going to be commissioned latest by February 2019.
ZHIOUA said, "This is not our first project in Egypt, we are shipping right now equipment with a capacity of 100 MW to another customer in Egypt."
40 years into the business, MONDRAGON ASSEMBLY is a globally recognized solar energy company that provides turnkey production lines for photovoltaic module manufacturing.
IGOR HERRARTE, EMEA global sales Director said "We have been providing innovative solar technologies for over 15 years, this production line for AIO will be the 7th line that Mondragon Assembly installs in the MENA region". We also have a complete know how transfer program. This program can be tailored to meet customers' requirements, including: module design and certification, raw materials, production ramp ups, training, maintenance programs".