Mondragon Assembly installs a solar pv cell tester and sorter for the center for solar energy research and applications (Günam) in Turkey.
21 February, 2019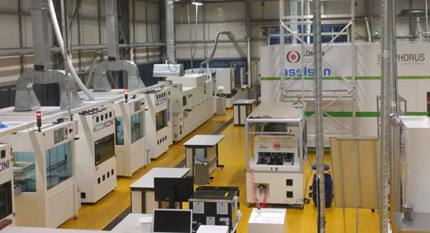 Mondragon Assembly, in cooperation with its exclusive agent, Sunplast Enerji in Turkey has just completed the installation of a solar PV cell tester and sorter in Turkey, in the Center for Solar Energy Research and Applications (GÜNAM).
The supplied equipment is a last generation automatic cell tester and sorter system for crystalline silicon cells. This system reaches the A+ quality for temporal stability, non-uniformity of irradiance and spectral match.
Prof. Dr. RAŞIT TURAN, leader for wafer based PV in GÜNAM, mentions that "this system will allow us to make accurate measurements and cell characterization, which is essential in our research projects. Indeed, the system is both, very precise and fast, and very compact and user friendly".
IGOR HERRARTE, EMEA global sales director at MONDRAGON ASSEMBLY said "it has been a pleasure to cooperate with GÜNAM, one of the first research centers in EMEA region. Equipment manufacturers, we have many things to learn from laboratories. We really hope to cooperate with GÜNAM with the objective to achieve photovoltaics to be the first source of energy!"
About Mondragon Assembly
Mondragon Assembly, is an internationally recognized producer of equipment for the manufacture of solar panels, who designs and provides turnkey production lines and machinery for photovoltaic systems. With more than 40 years experience in automation it's a global benchmark in the automated assembly and equipment sector, offering its customers top quality solutions adapted to their needs.
About GÜNAM
The Center for Solar Energy Research and Applications (GÜNAM) is a multi-disciplinary center of excellence in the area of solar energy science and technology. It has been supported by the Turkish Ministry of Development since 2009. With rich infrastructure and human capital, GÜNAM is the leading and most comprehensive national center in the development of solar energy technologies including photovoltaic, concentrating solar thermal, and cross cutting technologies such as high performance buildings, smart grids, and smart cities with a mission to be a global player in this field.