Mondragon Assembly, SME of the year in the fourth edition of the "Euskadi Avanza" awards
23 February, 2021
The cooperative was recognised for its business career and for the commitment it showed last year for dealing with the pandemic.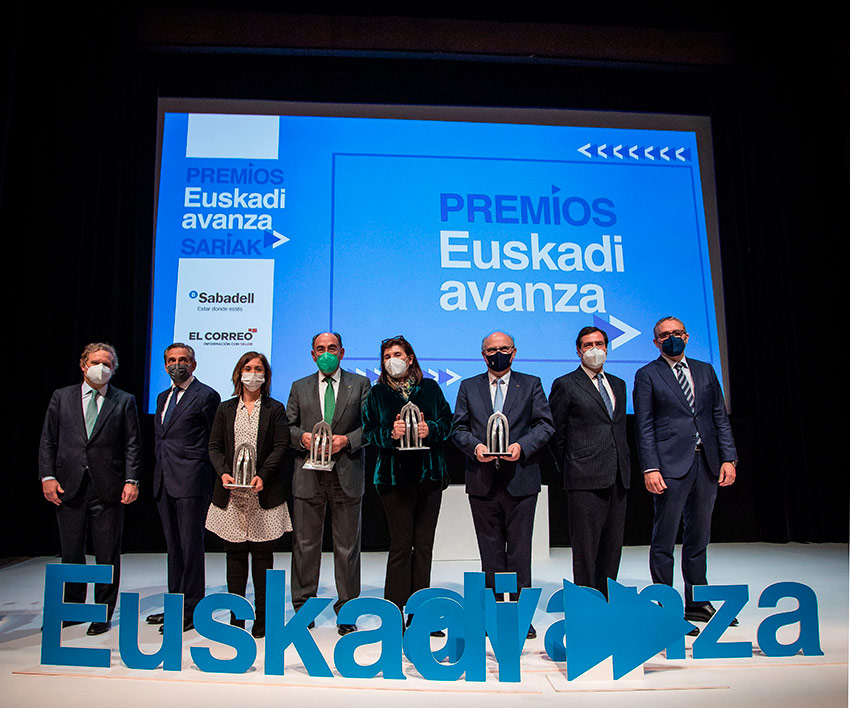 Yesterdey, on 22nd  February, the fourth edition of the Euskadi Avanza awards was held in the Guggenheim Museum, Bilbao, organised by El Correo and Banco Sabadell "in order to acknowledge the fundamental contributions made by business to our community". On this occasion, Mondragon Assembly was awarded the "Best SME of 2020" for a business career that has spanned more than 40 years and for its commitment to tackling Covid-19 during 2020.
This award is a new milestone for Mondragon Assembly as it places value on its business career and also highlights the work undertaken during last year, developing a mask production line in record time.
In this edition prizes were also awarded for the work of Viralgen (New Company), Iberdrola (Company of the Year), as well as for the business career of Carmen Martínez Zabala, Chairwoman of Bodegas Faustino.
Intercooperation and ability to respond to the pandemic
The project began with the MONDRAGON Corporation, at the explicit request of its Chairman in trying to find a solution for manufacturing and supplying masks to the population when production in Europe was virtually stopped due to the pandemic. Mondragon Assembly quickly started the manufacturing process at its plant in Kunshan (China).
With this request, and thanks to the close relationship between the various cooperatives within the Corporation, in this case with Bexen Medical, a key partner in the project, and Cikautxo also, a solution to the request was found in record time.
The result was that within seven weeks, the four first mask-making machines were producing in the Basque Country and within twelve weeks a total of 18 machines with a total capacity for 60 million masks per month had been prepared.
More than 40 years of providing automation solutions with high technological value
Mondragon Assembly has been providing automation and assembly solution for more than 40 years. Its commitment to the market and its customers have allowed it to establish itself in several countries, and is present today in France, Germany, Mexico, China and Brazil, with production plants that encompass its entire value chain and in MENA and India with commercial offices.
"Our growth over the last few years confirms the success of our strategy, where we have increased our sales by more than 100% in the last five years, achieving a turnover or 80 million and with over 450 people directly employed in the Group", said Eider Lozano, Vice-President of the Consejo Rector (Governing Council), who was there to receive the award, during her speech.