Success in producing the first PV modules at Bin Omairah
6 September, 2021
The production line, developed by MONDRAGON ASSEMBLY and with a capacity of 150MW, has successfully started manufacturing the first modules.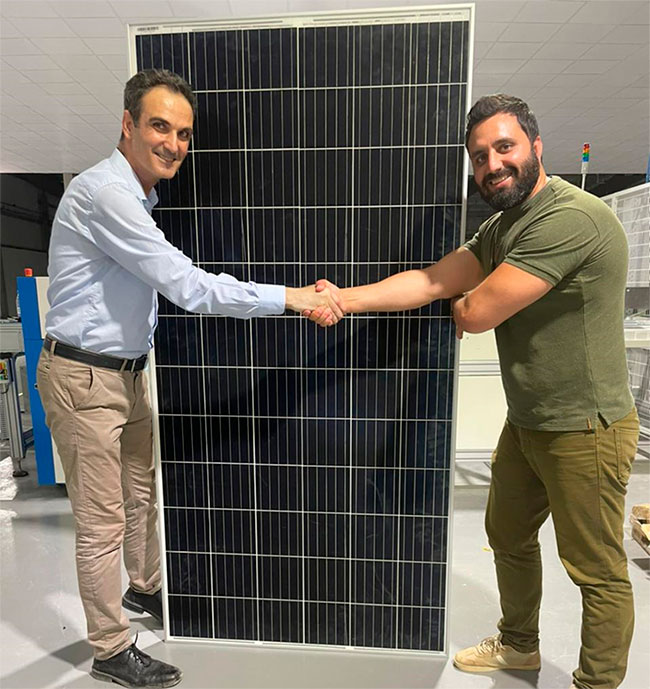 This is the first phase of a global project with a total capacity of 1.2GW that BIN OMAIRAH HOLDING has decided to carry out in a very strategic location in the northwest of the Kingdom of Saudi Arabia in Tabuk Industrial City (just 200 km from Saudi Arabia's $500 billion futuristic megacity, Neom) via its wholly owned subsidiary, Masdar Solar, established in 2018 to localise PV technologies in Saudi Arabia.
The automatic line, which manufactures state-of-the-art modules, will be in full production by the end of this year. "With this project, we expect to become one of the most important manufacturers in the MENA region. To achieve this, we will cover both the local and global market from here" said Fahad Bin Omairah, CEO of BIN OMAIRAH HOLDING.
MONDRAGON ASSEMBLY, more than a Technological Partner
A multidisciplinary team has been set up to ensure the most successful implementation of the project, and the positive results reflect the success of the project. "More than 20 years of experience in the PV sector has made us realise that our customers not only need a solution provider, but also a partner who will accompany them throughout the life of the project, especially at the beginning stage. Moreover, given the exponential evolution of both cell and module technologies, we have the capacity to provide them with technological support and advice so that none of our customers are left behind" added Igor Herrarte, International Sales Manager at MONDRAGON ASSEMBLY.
MONDRAGON ASSEMBLY supports different entities and public institutions in the kingdom to increase the level of PV localisation which is perfectly aligned with the KSA's ambitious plans regarding the implementation of renewable energy. ''We strongly believe that this project is part of the ambitious plan to encourage technology transfers in the renewable energy industries and the location of significant parts of the renewable energy value chain in the Kingdom of Saudi Arabia to align with the goals of Saudi Vision 2030. Effective collaboration between the different players in the PV sector, coupled with government policies that prioritize renewable products, is expected to enhance the local PV industry and drive development" said Haythem Zhioua, Business development manager for the MENA region at MONDRAGON ASSEMBLY.
About Bin Omairah Holding: Bin Omairah has been offering multi-utility infrastructure solutions for more than 45 years, partnering with leading utilities companies in the Kingdom of Saudi Arabia and MENA region. Bin Omairah endeavors to be the benchmark brand in high-quality infrastructure solutions for Power Grids, Water & Sewerage Lines and Telecommunications Networks. This means constantly adapting smart and agile project management tools, new construction processes and practices, and global benchmarking.
In the context of their ongoing efforts to offer maximum value to their clients, Bin Omairah customizes value-adding multi-utility infrastructure solutions with One-Stop-Shop approach to their clients. In line with Saudi Vision 2030, Bin Omairah seeks to expand regionally and globally and to localize a significant portion of renewable energy technologies. Bin Omairah builds solid and lasting relationships with its clients through its culture of client centricity, based on the core values of teamwork, transparency, ethical conduct, integrity and commitment towards our clients.
About Mondragon Assembly S. Coop.: Mondragon Assembly is an international group specialist in the development of automation and assembly solutions. The parent company in Spain, which is a cooperative, was created in 1977, one of the pioneers in the development of production and assembly technologies.
Mondragon Assembly is divided into three business areas: Solar, E-Mobility & Energy Storage and Automation. Its main activities in each of these business include the development of turnkey lines and machines and contract manufacturing, being able to offer solutions anywhere in the world with their six production plants and three technical and sale offices.