Mondragon Assembly discusses and shares trends in the solar world at the Solar Energy Industry Forum of the Energy Cluster
15 November, 2021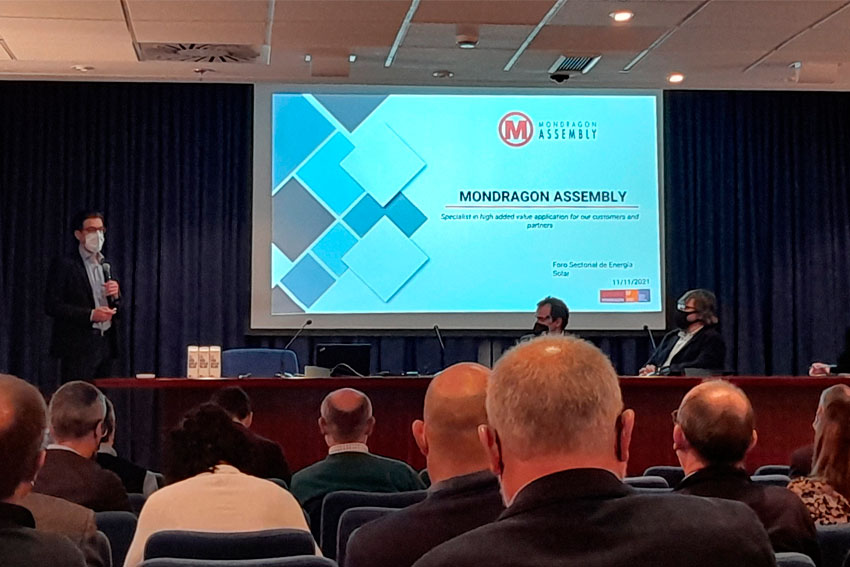 Which are the trends in both technology and applications that will shape the solar sector in Europe? These and many other questions were answered at the Solar Energy Sector Forum of the Energy Cluster (ACE) that took place on the 11th of November at Tecnalia's headquarters in Zamudio. Mondragon Assembly's Solar Business Director, Iñaki Madina, took part in the forum.
The session reviewed the current situation of the photovoltaic sector and, in greater depth, a series of innovative technological approaches that are revolutionizing the current panorama and which offer promising prospects for the future, including advances in new generations of cells and modules with greater efficiency; emerging market niches such as floating photovoltaics or agrivoltaics; and digitalization applied to the optimization of operation and maintenance processes in photovoltaic plants.
Mondragon Assembly, participation in the Forum
At the conference, Iñaki Madina analyzed the current situation of the solar sector worldwide and the vectors on which it will be necessary to focus in order to achieve a competitive business ecosystem for PV sector in Europe.
"This event has served as a key to show the competitive and changing environment in which we are moving and what should be the way forward to ensure that Europe is once again a pioneer in technology and new applications in our sector. Our commitment is clear: new technologies and collaboration with research and development centers in the sector to offer our customers the special solutions and differentiation they need to gain competitive advantage againts the competition" said Iñaki Madina.
Together with Madina, relevant companies and agents of the sector, such as Meyer Burger, Tecnalia, PI Berlin, Branka Solutions, Lortek, Isigenere, Emica Solar and Dominion, participated in this forum.