Mondragon Assembly will develop an automated PV manufacturing line for the Indian customer BVG India Ltd.
20 October, 2022
This will be one of the most automated and biggest lines in North India with the capability of producing higher wattage modules with bigger cut cells.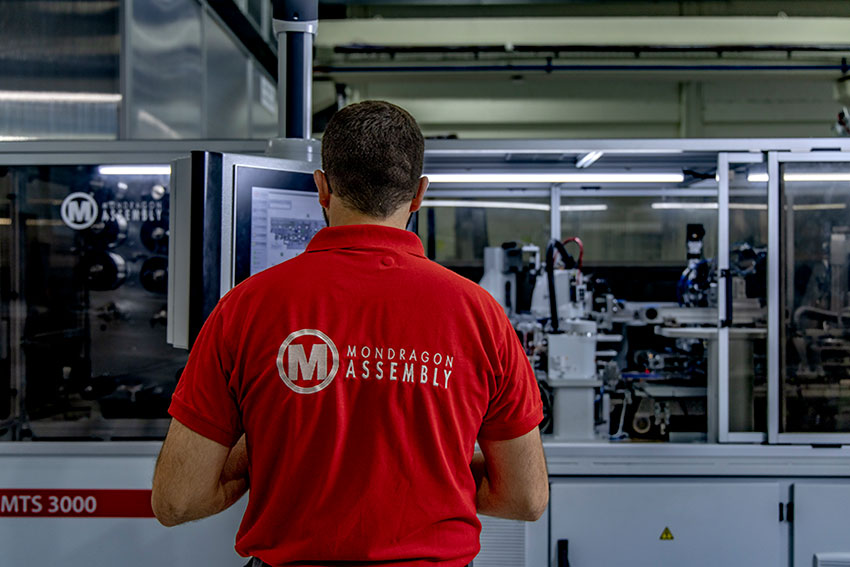 A new milestone for Mondragon Assembly Solar in India
Mondragon Assembly, a specialist turnkey line provider with high technological value and adaptable to any existing need in the solar industry, has recently received an order from BVG India Ltd.
This is Phase-1 of the Multi-GW project of BVG, which has vast experience in the PV world. The customer, who is primarily focused on building clean energy projects across the world, including Solar PV projects, Solar Pumps and LED Lighting projects, has made the step up to become one of the manufacturers with the largest solar module manufacturing plant in northern India.
"We are proud to be part of our client's ambitious project, and thus be able to accompany them in all the necessary steps to help them become a reference in the production of solar panels," says Manish Bansal, Executive Director of Mondragon Assembly India Private Limited.
Highly Automated turnkey line upgradable to any next-generation cells and modules.
This new project, developed by Mondragon Assembly team, consists of a 500 MW automated and highly advanced technology State of Art Solar PV Module Manufacturing Line that will start producing M10, ½ Cut cells from day 1. The line that will be operational by the second quarter of 2023,is designed to produce more than 2,000 modules each day. Taking into account that the PV module and cell technologies are changing so fast, this line will be fully upgradable to next-generation modules and cell sizes between M3 to M12 and up to 15BB, and has the option of producing Glass-Glass and/or Glass-Back sheet modules.
Regarding the market that BVG will focus on, Mr Pankaj Dhingra, Director of BVG India Ltd. & CEO of BVG Clean Energy Ltd.,  says "First of all we will focus on supplying modules to Tier-1 solar EPC companies in India and abroad maintaining the highest quality standards."
Mr. J S Bhatia, COO of BVG Clean Energy Ltd. added that "There is huge demand of high-quality and high-wattage modules in India and in countries like the US, Europe, Australia, Canada, and New Zealand.With this new world class line, we want to take advantage of this market situation with making EPC projects viable to develop with quality and competitive pricing."
Project part supported by the Ministry of Industry, Trade and Tourism of Spain.
The project is supported by a certain percentage of funding from the Corporate Internationalization Fund (FIEM), a public instrument managed by the Spanish Secretary of State for Trade, aimed to promote the presence of Spanish companies and products abroad.
About BVG Group
BVG is ISO 9001: 2008, ISO 14001: 2004, OHSAS 18001: 2007, and SA 8000: 2008 certified group which is India's largest integrated services group with 70,000+ employees serving 750+ government & private clients (in 22 states of India) like State Power Utilities, Nuclear Power Corporation, Supreme Court of India, Rashtrapati Bhawan, Parliament House, Prime Minister's Office & Residence, Railways, Unilever, Bosch, Fiat, Hyundai, Adani, Accenture, HPCL, ONGC, Reliance, Tata Motors, Bajaj Auto, Volkswagen, etc. The Plant will be in Greater Noida, Uttar Pradesh.
About Mondragon Assembly Group
Mondragon Assembly is an international group specialist in the development of automation and assembly solutions. The parent company in Spain, which is a cooperative, was created in 1977, one of the pioneers in the development of production and assembly technologies. Mondragon Assembly is divided into three business areas: Solar, E-Mobility & Energy Storage and Automation. Its main activities in each of these businesses include the development of turnkey lines and machines and contract manufacturing, being able to offer solutions anywhere in the world with their six production plants and three technical and sale offices.
Mondragon Assembly belongs to the MONDRAGON Corporation, one of the most important business groups in Europe.