Face mask production lines arrive at Etxebarria (Bizkaia)
21 April, 2020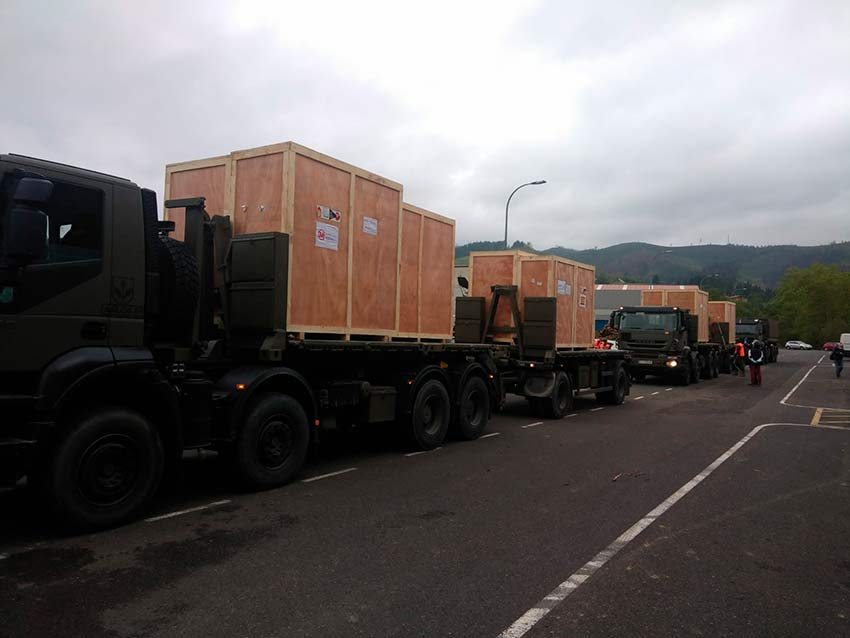 The lines will now be assembled and mass production of masks is expected to start in mid-May
Three mask production machines, manufactured at Mondragon Assembly's Chinese subsidiary plant, were sent by road and reached the Cikautxo factory in Etxebarria, Bizkaia province yesterday (April 20). The Spanish Government representative in the Basque Country, Denis Itxaso, and the Managing Director of the MONDRAGON Equipment Division, Juan Ángel Garcia, were at the factory to receive the three machines together with Luis Mari Imaz, Iñigo Laskurain and Carlos Arsuaga, the respective Managing Directors of Mondragon Assembly, Cikautxo and Bexen Medical.
In addition to the three lines received at Etxebarria a fourth line has also been sent to the Military Pharmacy in Burgos.
Challenge accomplished in record time
The Mondragon Assembly workers, including four from the Chinese subsidiary, will continue their race against time to assemble and adjust the four lines in the shortest possible time so that production can begin. If all goes according to plan, the three mask machines will all be working at full capacity by mid-May with a view to producing the target amount of 10 million masks per month.
The machines were requested by the Spanish Ministry of Industry, Trade and Tourism (Mincotur) in mid-March. The Mondragon Corporation welcomed the inter-cooperation between its businesses and its industrial capacity and accepted the proposal, putting the cooperatives Bexen Medical and Mondragon Assembly in contact so that the work could commence. A month later the machines have arrived, and the challenge is now to set them up and start production without delay.