Turnkey lines for battery pack technologies
Solutions for battery pack technologies
We offer modular and flexible solutions to cover many fields, such as energy storage systems of research and development machines, as well as complete assembly lines for module and battery pack production.
We are able to supply a wide range of solutions for different cells type, such as: cylindrical, prismatic, and pouch cell production.
The Battery pack assembly line consists of different assembly processes: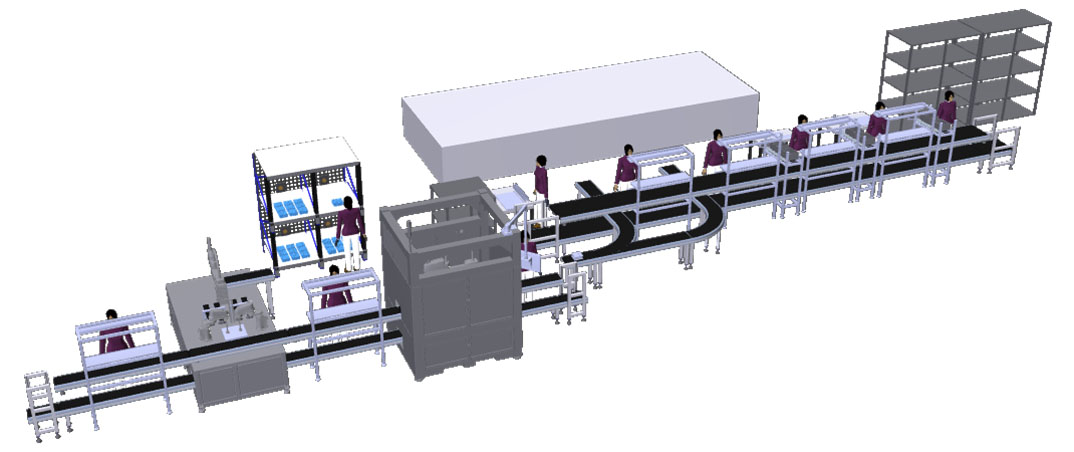 Battery Module assembly
Feeding and sorting of cells
Cell pack configuration
Housing and end-plate loading and assembly
Bonding dispensing
Busbar loading and welding
Battery Pack assembly
Housing loading
Thermal system assembly
Module loading and assembly
HV & LV system assembly
BMS + cables loading & routing
Cover assembly
Leakage / insulation / EOL tests
All our solutions can be customised, and our experienced engineering team puts
its experience at your disposal to help you develop your project.
AUXILIARY COMPONENTS OF BATTERY MODULES
BATTERY MODULES CELL CONTACT SYSTEM
We also develop assembly lines for auxiliary components of battery modules
Main Features
Product transferred in workpiece carriers over a loop conveyor
Product traceability via DMC and barcode
Rework station with graphic display for rework processes
Connection to higher-level MES systems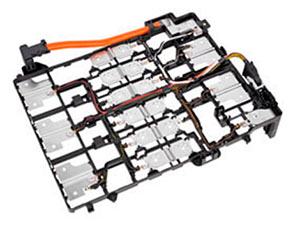 Assembly process
P-pole, M-pole and cell connector loading into the carrier via palletising system by Scara robots. Components are hot-caulked
NTCs on the PCB are fitted with thermal pads by Scara robots and the PCB is inserted into the carrier plate. The board will be also hot-caulked
Plasma cleaning of all bonding points. After that, bonding between the PCB and the cell connector
Coating the bond areas with UV varnish. Curing the coating in a UV oven
End-of-line inspection: optical inspection of the UV coating by a camera system, optical inspection of the caulking points by camera system, electrical tests of bond joints and NTCs
Laser marking
Automatic sorting of NOK or reworked parts. OK parts are removed by operating personnel